Welcome to Student of Peace, a site dedicated to the peace initiatives and peace philosophy of Sri Chinmoy.
Sri Chinmoy is a Spiritual Teacher who strives to share a vision of peace – both inner and outer.
Short Bio Sri Chinmoy
Sri Chinmoy was born in Bengal, India in 1931. At the age of 12, with his sisters and brothers, he entered the Sri Aurobindo Ashram. During his time in the ashram, he spent considerable time in prayer and meditation, whilst simultaneously cultivating interests in literature, music and sports.
In 1964, following an inner call, Sri Chinmoy travelled to the United States to share with Western seekers the fruits of the East's strong tradition of inner reflection and meditation.
From the mid 1960s to his passing in 2007, Sri Chinmoy established meditation centres in over 60 countries around the world, serving as a spiritual guide to those who wished to follow his path of yoga.
Sri Chinmoy led an active life, demonstrating that spirituality is not an escape from the world, but a means of transforming it. A noted author, musician, artist, meditation teacher and athlete, Sri Chinmoy, above all, wished to be remembered as a 'student of peace' To this end he established numerous peace initiatives which touched the lives of many people around the world.
A Philosophy of Peace
According to Sri Chinmoy, peace is a positive force – dynamic and creative.
Peace does not mean the absence of war, peace means the presence of harmony, love, satisfaction and oneness. Peace means a flood of love in the world family.
– Sri Chinmoy1
Sri Chinmoy felt the secret to peace was to first discover it from within.
Peace is something spontaneous; it is something that unites us. Peace is something that we have to spread. But unless and until we have peace deep within us, we can never hope to have peace in the outer world.
– Sri Chinmoy2
To Sri Chinmoy, it is always the individual who is responsible and able to bring about a real and lasting peace.
Right now fear, doubt, anxiety, tension and disharmony are reigning supreme. But there shall come a time when this world of ours will be flooded with peace. Who is going to bring about this radical change? It will be you- you and your sisters and brothers – who will spread peace throughout the length and breadth of the world.
– Sri Chinmoy3
Sri Chinmoy believes that the foundation of peace must come from a common awareness of a shared source, a oneness within their cultural diversity. If there is a feeling of superiority or inferiority there can never be a lasting peace.
Sri Chinmoy talks about peace
Peace-Blossoms
Many significant landmarks have been dedicated to peace as part of the Sri Chinmoy Peace-Blossom programme. See: Peace-Blossoms
Peace Miles
Sri Chinmoy also founded various Peace Miles, for example: Oxford Peace Mile.
Peace Concerts

One of his most striking forms of peace expansion which Sri Chinmoy has pioneered is that of his Peace Concerts. Sri Chinmoy viewed his peace concerts as a practical way to share a message and experience of peace. During the concert, Sri Chinmoy would play on a variety of instruments from a soft ethereal flute to a powerful organ improvisation; the concert would also be opened with a short moment of silent meditation, where several thousand people would have an experience of inner stillness.
One had the feeling that the crowd had come not for the music, but rather for what was between the compositions, that is, the inner peace that the sounds only served to prolong… The journalist is simply put in the presence of an extraordinary sociological fact: it is very rare that a man, simply by standing with folded hands, can inspire thousands of people from all walks of life to spend several minutes in pindrop silence.
– Le Monde, Paris, France.
Sri Chinmoy felt that music had the capacity to transcend boundaries and human nationalities. In the traditional Indian fashion, Sri Chinmoy offered his concerts free, on the basis spirituality is everyone's birthright and can never be bought and sold.
It was clearly not an event to advertise peace or to raise money for peace. Sri Chinmoy's approach was altogether different. He aimed to instill a profound sense of peace and harmony in the hearts of his audience by playing soulful music.
– Common Ground, Melbourne, Australia.
The first Peace Concert was held in 1984 in Cologne, Germany, it was attended by over 8,000 people. Other concert venues included
The Royal Albert Hall, London (6 occasions)
Carnegie Hall, London
Sydney Opera House
Palais des Congres de Montreal
See: Peace Concerts
Service for Peace at the United Nations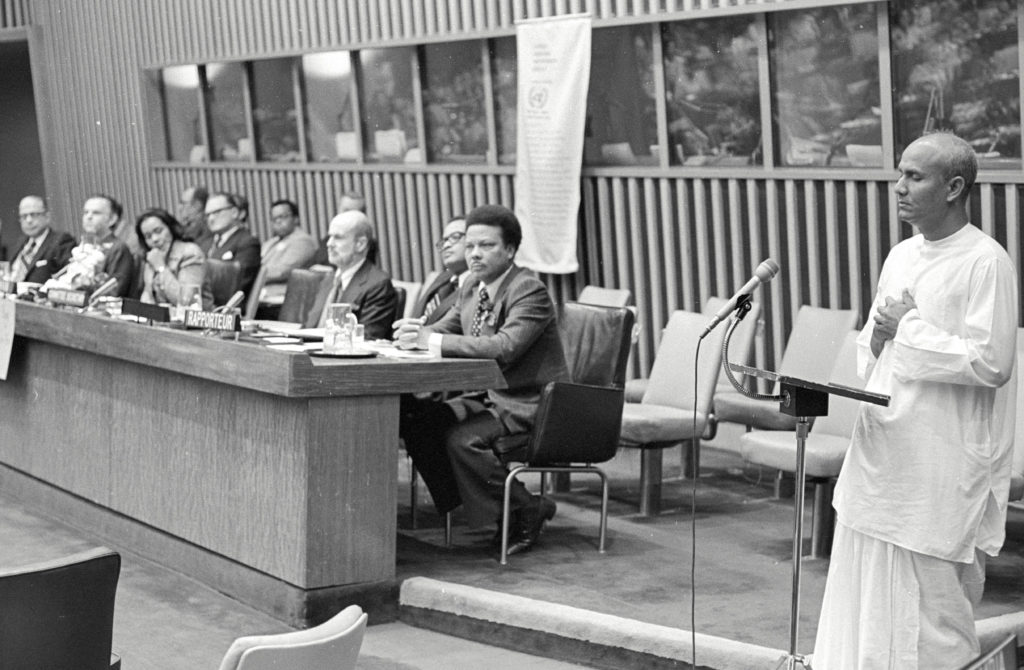 Sri Chinmoy also affirms the unprecedented role of the United Nations and views the organisation not merely as an entity which evolved out of political necessity, but rather a momentous step in human evolution.
The United Nations is the result of the inner awakening of human beings from time immemorial.
– Sri Chinmoy4
Sri Chinmoy sees the United Nations as an organisation born out of humanity's sincere cry for peace, and it is this aspiration for peace which is the most significant aspect of the United Nations. Speaking of the innate significance of the United Nations, Sri Chinmoy says,
The outer message of the United Nations is Peace. The inner message of the United Nations is Love. The inmost message of the United Nations is Oneness. Peace we feel. Love we become. Oneness we manifest.
– Sri Chinmoy5
The importance of inner peace for those working towards outer peace has been recognised by the United Nations from its earliest days when it was decided to open and close each session of the General Assembly with a minute of silence. The first Secretary-General, Trygve Lie, had a meditation room built in the Secretariat building, and his successor, Dag Hammarskjold, designed the room as it is known today. It is in this tradition that Sri Chinmoy conducted twice-weekly peace meditation sessions for delegates and staff at United Nations headquarters since 1970.
In 1968 Sri Chinmoy gave a lecture at the Church Centre for the United Nations in New York. Two years later, Sri Chinmoy In 1970, under the auspices of U Thant, Sri Chinmoy was invited to begin a meditation group at the United Nations. The group is known as "Sri Chinmoy: The Peace Meditation at the United Nations." – it is open to staff, delegates, representatives of non-governmental organisations accredited to the United Nations. Secretary-General, U Thant said of Sri Chinmoy
I have been hearing about you from many, many people. Whoever speaks to me about you is all appreciation and admiration, and I personally feel that you have been doing a most significant task for the United Nations.
– U Thant6
Sri Chinmoy was also given encouragement and support by subsequent Secretary Generals such as Kurt Waldheim, Javier Perez de Cuellar and Kofi Annan
You are praying for peace. I known what you and the group are doing for us. I know it. I can feel it.
– Kurt Waldheim (July 1976)
In your meditation you see beyond the superficial distinctions of race, sex, language or religion, as the Charter encourages us to do. You concentrate on the truths and ideals which unite all mankind: the longing for peace, the need for compassion, the search for tolerance and understanding among men and women of all nations.
Javier Perez de Cuellar (January 1983)
Many ambassadors and foreign ministers who attended the Peace Meditations expressed their appreciation for this aspect of the United Nations.
I had not realised that, somewhere tucked away in this very large building of the United Nations, there is a small corner where real peace dwells. Day in and day out we talk of peace, we talk of the efforts to bring about world peace. But here I find an atmosphere totally different from what is just a few floors away. I find myself very fortunate for having been given his opportunity to visit his particular spot of peace, and I shall always cherish it.
India Foreign Minister Narasimha Rao (after attending a peace meditation)
U Thant Peace Award
An award given by Sri Chinmoy: The Peace Meditation at the United Nations.
Recipients of the award include:
Nelson Mandela – 29 January 1996
Desmond Tutu
Peace Meditations
Sri Chinmoy has also led peace meditations at different venues. In 1984, under the sponsorship of US Congressman Joseph P.Addabo, Sri Chinmoy was invited to lead a weekly peace meditation at the US Congress for members and staff. Reported in the Washington Post, (March 2 1984) Sri Chinmoy was quoted as saying:
Congress is America's fate maker, if we can pray and meditate we will bring forward peace that will inundate the length and breadth of the world.
– Sri Chinmoy7
On 13 November 1986, Sri Chinmoy was invited by the Speaker of the House of Commons, Bernard Weatherill and Viscount Tonypandy to inaugurate a similar period of meditation at the British parliament.
Building Peace Among Religions
If we live in our oneness-heart, we will feel the essence of all religions which is the love of God. Forgiveness, compassion, tolerance, brotherhood and the feeling of oneness are the signs of a true religion.
– Sri Chinmoy,8
At a time when religious differences continue to create turmoil in the world, Sri Chinmoy has strived to promote unity and global awareness among the world's religions. Although he was raised a Hindu, his philosophy is that of a universal truth-seeker and peace-lover. He believes each person should seek to maintain the traditions of his own religion and also foster a sense of universal spirituality upon which world peace must eventually be found.
Sri Chinmoy has met with many leaders of world religions to foster this sense of shared values and common spirituality.
Pope Paul VI
Pope John Paul II
Pir Vilayat Khan
World Parliament of Religions
On two occasions, Sri Chinmoy was invited to lead the opening meditation at the World Parliament of Religions. At Barcelona in 2004, Sri Chinmoy meditated in silence for several minutes and played a few meditative songs on his Esraj. Sri Chinmoy stated:
During my Opening Meditation I am praying for the oneness of all religions.
– Sri Chinmoy9
Sri Chinmoy's Opening meditation received widespread media coverage, such as
India Post July 23, 2004
Newsday July 24, 2004 – Many Religions, One Purpose
The Hindu 11/07/2004
Related
Selected newspaper articles on Sri Chinmoy
Reflections